We were finishing the first course in an Italian restaurant. We'd already downed two beers and were finishing a red wine bottle when my friend Rémi announced: "Oh, by the way, I'm doing sober October this year again, if you want to join…"
This is how I ended up burning 16520 kcal working out with a broken finger, pushing myself to a new level of athleticism and seeing friends transform themselves doing the same.
It's January 2020, I think it's time for a recap of Sober October 2019, especially because despite all the code related articles on this blog, the most popular blog post here is still related to training and workout.
Anyway, the rules were very simple:
no alcohol
no drugs
no white/refined sugar
burning the maximum amount of calories for the month
We were 5 friends competing against each other, the winner would get the November 1st, party/night paid by the others.
In this post, I want to share 7 lessons I learned through Sober October 2019.
Lesson 1: clear your schedule
The sheer volume of training will disrupt your schedule. This was very uncomfortable at first: you will have WAY less free time.
Any downtime can and should be used to train or maximize recovery.
You will also require time to handle the logistics: commuting to gyms, washing your clothing and gear…
But just switching from 4 to 5 workouts a week to 2 workouts a day will require more time spent training and more time spent recovering, be prepared.
Lesson 2: Sugar is everywhere
Avoiding alcohol is not so hard once you've committed yourself into the Sober October. It's for a limited time, take it as an interesting experiment.
White sugar is a whole other game: it's insidiously everywhere. If you're not careful, buying slightly processed food will disqualify you.
This is by far the hardest element to remove from our modern diet.
I eat very little processed food, I'm mindful about what I eat and I'm cooking a lot. Despite this, we had phone calls when some team members were at the store shopping for food, trying to understand why there was sugar in some brands of processed meat — even supposedly lean ones such as turkey.
Lesson 3: Training through an injury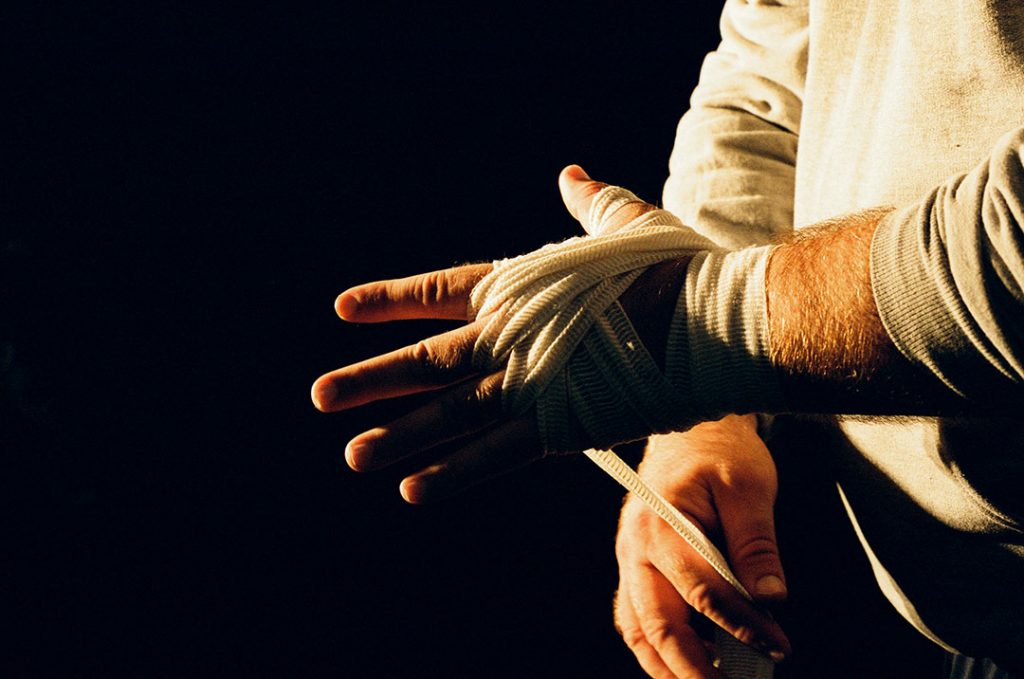 Usually, getting injured is hard on me.
I slow down my training, sometimes going full-on potato couch. Because I'm not training, my diet is also affected and I start eating like crap.
10 days in the challenge, I broke a finger by hitting my hand on a wooden box, miscalculating a box jump.
The pain wasn't really a problem but I lost all form of grip in my right hand. I couldn't do any grappling or Brazilian jiu-jitsu training — which was a very good way to burn calories for me — nor pull or lift correctly in various conditioning workouts.
Usually, I would have stopped cold turkey, but because I was committed, I had to find alternative workouts.
I took up cycling classes, went for long runs and focus on lower-body conditioning: hip thrusts, Zercher squats, etc.
This clearly handicapped me but did not affect my condition as much as expected.
This was a very valuable lesson — and now that I'm writing this it seems very obvious but it wasn't at the time: never stop. Aside from mandatory recovery or systemic failure, you can just explore different exercises and training regimens, but continue training and pushing yourself.
Lesson 4: Be aware of your circadian rhythm
This lesson is much more in the "Know thyself" category. I discovered high-intensity workouts in the morning are really hard for me.
I always considered myself a morning person: I'm much more productive in the morning so packing some workouts at the first moment of the day seemed like a great idea.
I turned out that I'm much better at high-intensity training later in the day.
I can go out for runs or do some light workouts but when it comes to pushing hard, I'm much more comfortable doing so after 12pm.
It didn't feel like it had to do with food consumption — except maybe for coffee — as I did a few workouts on an empty stomach.
The lesson for next year: planning runs and moderate-intensity workouts in the morning but leaving the hard stuff for later in the day.
Lesson 5: not all workouts are created equal
Measuring the calorie count of every workout is very interesting: you get to detect patterns and a deeper understanding of how much energy you're spending while training.
The mental component was a big surprise: burning 500kcal biking was much more painful and uncomfortable than 900kcal boxing.
I'm sure this is very subjective but a good way to burn more calories was to introduce some kind of distraction. Grappling, Brazilian Jiu-Jistu, etc. all of this allows burning a lot without really thinking about it, whereas a very brutal circuit training will be much more painful to go through.
Lesson 6: you can still get awesome nights out, but your social life will be impacted
I had a few good parties during Sober October but hitting the bar was hard.
First of all, you can't drink alcohol (duh!) but the problem lies in the soft drinks: most of them are filled with refined sugar.
You have to stick to sparkling water or something like that which is not the funniest drink to have.
Again, avoiding sugar is the hardest part of this whole challenge.
Lesson 7: The team and competition helps
A few things made this challenge more interesting.
Even though I'm not the most competitive guy ever, having a group of like-minded friends competing for the maximum amount of calories burnt was really motivating. We had a WhatsApp group where every participant shared is weekly calorie burn.
On Sundays, I would graph the current rankings and create an Instagram story showing everyone the current progress of the challenge. This helped driving everyone in the group, but also create accountability and having people not in the challenge motivate and check-in on us.
Notes for the Sober October
Based on these lessons, there are a few things I'll take into account for Sober October 2020.
First, I'd like to integrate HRV measurement to get a better understanding of my fatigue level and be able to plan my workouts of the day accordingly. With this volume of training, I prefer to take it slow during a day I haven't recovered to be sure I can train the next day.
I'm considering setting up a Whoop strap of something like that to have a more precise reading and holistic understanding of my recovery and state.
Second, creating those recap leaderboards was fun but I'm thinking about creating an app for next year's edition to be able to have real-time tracking of everyone and quickly share leaderboards onto social media platforms. Let me know if this is something you'd like to see.
Finally, probably because I'm a bit masochistic, I'm thinking about removing black coffee in October. Coffee is clearly my favorite drug and although I'm not planning on quitting caffeine all the way — I'm planning on switching to tea instead — I am thinking that this kind of challenge would fit nicely into the Sober October.