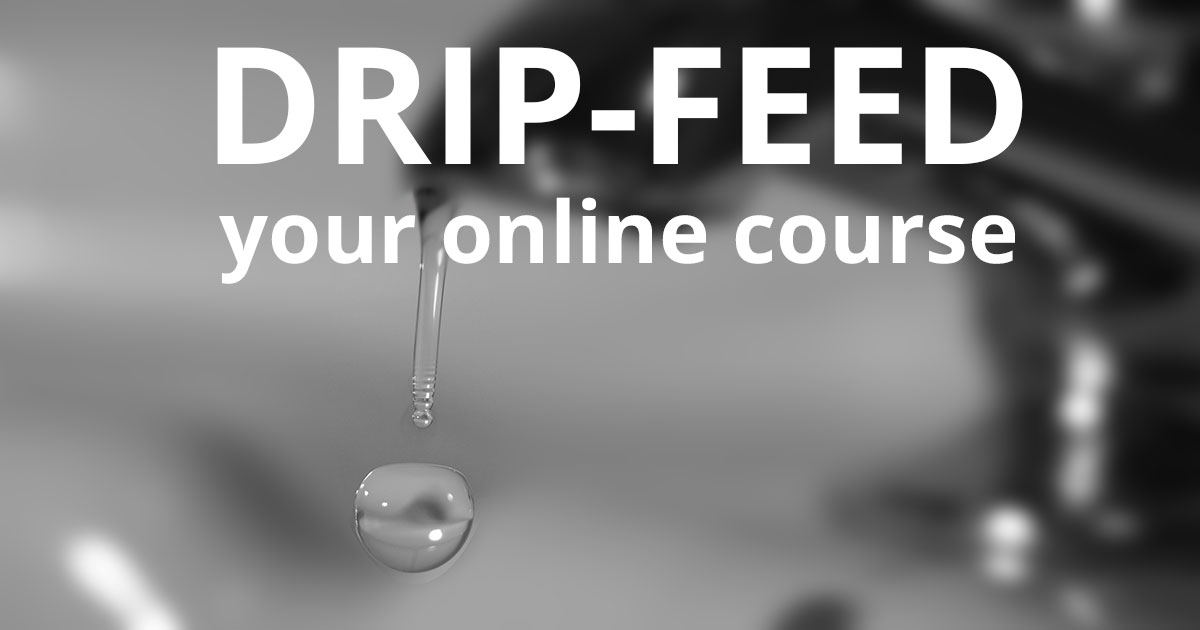 Have you ever wanted to drip-feed your content on your e-learning or membership site? Here are options to consider and why, if you haven't considered it, you might want to take a look.
We'll see:
why drip-feeding is a good idea in general
a killer free option to drip-feed your content
2 Learning Management Systems to drip-feed your courses
Let's go ;)
Why drip-feeding your content is a good idea?
If you sell anything online, you know you have to create trust. And if you want to eradicate doubt, just put an X days money back guarantee no matter what.
So, if you sell your course and give access to the full course right away, people can just frontload it.  They access your precious knowledge, ask for a refund, you get robbed. You can complain about how dishonest those people are, but you're at fault not protecting yourself from this.
Reason #1: protect yourself and your content from money back guarantees. Give enough to let them see and try the product but don't give everything right away.
When I'm taking a course online, or learning something, I like to take my time and let it sink in. But I'm also curious about what the next lesson is. So most of the time, I speed run the course and watch everything once. Later on, I take it one lesson at a time and see what I can apply.
Now I know a lot of people who just speed through the course and bounce in the end. Drip-feeding the course allow you to force your rhythm on your students. You can orchestrate a better success rate, a better user experience.
Reason #2: force your students or subscribers to follow an optimal rhythm to consume your content.
Another cool thing you can do when drip-feeding is using an autoresponder for a better experience. When your member buys your course or membership, they get added to a mailing list (or a segment / group of it) and will get:
emails when a new unit is available
reminders
feedback forms
support
And, of course, if you have several courses or other products you can add upsells and one time offers to the sequence.
Reason #3: autoresponder and email marketing magic to improve member experience and owner revenue.
How to drip-feed your online course for free?
I'm a huge fan of the Paid Membership Pro plugin. You should really take a look, it's free and you'll be able to find a lot of free extensions for it.
Speaking of add-ons, if you install PMPro Series, you'll be able to drip-feed your content very easily (and for free). Here's how:
What LMS to choose to drip feed?
So, in light of the evident benefits above, you would think that every LMS has a drip-feed option. But that's not the case. Several options out there will still allow you to do so.
Don't forget to hack
If you're willing to "hack" you can use pretty much any LMS joined with a decent membership plugin. For instance, I've put together a WP Courseware + PMPro + PMPro Series Add-on and it works perfectly fine.  I'm a bit worried about the scalability though. If I start to have many courses it might be problematic. Although PMPro has some cool stuff to handle this, we're not in a "product" context but more a "membership" one. I don't know how multiple memberships will stack on a user.
Built-in drip feeding
So to be fair, I know it's a feature "in development" for a lot of LMSs out there. However, I don't know where it is on their priority list. I'll walk you through two plugins I know have drip-feeding and can be fully automated.
Why fully automated? CoursePress, for instance, is a very good looking plugin. It has a really good user experience. They allow you to drip feed your course, but it's date dependent. It's not relative to the student enrollment. This works perfectly well if you're doing live classes with a definite timeline. But it won't drip-feed if someone subscribes a year from now. He'll have access to all the lessons.
I personally love LearnDash. It might not be the best looking plugin out there, but it's feature packed. It allows to simply drip-feed your content on specific dates or after a number of days after your student enrollment.
The second one is WooThemes Sensei, which I know has a premium drip-feeding extension. I don't have an extensive experience with this plugin, but you'll find what you  need there:
Conclusion
So here are my techniques to drip-feed content. I'll probably come up with new ones in the future, but this is what I do:
if it's a classic membership site and you don't want all the fancy stuff a LMS could provide (think quizzes, certificates, user progression) go for PMPro and the Series Add-on it just rocks
if you want to set up an LMS with a drip-fed course, LearnDash is my go-to option right now
Do you drip-feed your content? What do you use to do so?